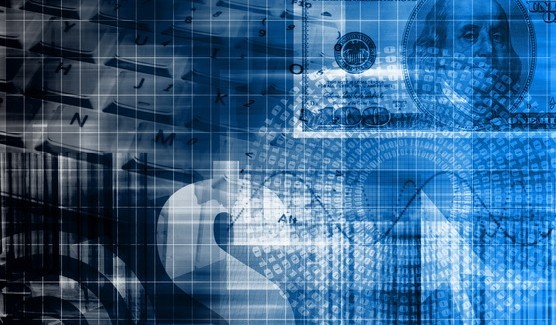 THE RISE OF FINTECH
A recent high school graduate is surrounded by moving boxes and tape as he prepares to drive across the country. He finds a forgotten envelope of checks tucked in his desk drawer, sent by family and friends to congratulate him on his admission to Stanford. He taps his iPhone screen and opens his mobile banking app. He carefully centers the camera and takes a photo of each check to deposit them into his account.
A retired couple grabs a beer at the airport bar, giddy with excitement as the trip they have planned and saved for their entire lives commences. The wife pulls out her laptop, logs in to her credit card account, and sets up automatic bill payment for the duration of their trip.
A father of two in his final year of medical residency tucks his kids in for bed, then sits down at the kitchen table. He logs into Mint.com and clicks "Add Account." He provides his email and password to log in to the investment account he created through Wealthfront earlier that day in order to save for his children's future.
Financial Services Are Tech-Enabled
Since the advent of the internet and smartphones, innovators have sought ways to ease the hassle of traditional banking and payments systems by utilizing web and mobile technology. Technology has rapidly replaced the need for a consumer to drive to a brick-and-mortar shop, wait in line, speak with a representative, and transact in person and on paper. What this leads to for the consumer is convenience, saved time, and access to electronic records, all of which dramatically improve their experience.
In 2015, 71% of all American consumers used online banking and 38% used mobile banking. Understandably, there are much stronger adoption rates among younger people for mobile and online banking. However, adoption rates of financial technology continue to grow every single year across all age groups.
Web and Mobile Payments
Online payment systems founded in the late 1990s paved the way for mobile banking. One of the most well-known service for conducting transactions online is PayPal. Using PayPal, you can transfer money to friends and family or pay for goods and services by using credit cards and bank accounts linked to your PayPal account.
A newer smartphone app Venmo enables users to make or request payments instantly on their phone. Many have described it as the cross between Facebook and PayPal, as payments can be displayed publically or within social circles. Users make payments using their credit card or by linking their checking account.
Other players in the space include ApplePay, Square Cash, and Google Wallet.
Financial Health & Budgeting
In addition to online banking and payment services, consumers use digital resources to assess their financial health and budget. Mint.com is one tool used to manage personal finances. By providing login and password credentials for your checking, savings, credit card, and investment accounts, Mint aggregates all of your financial data in one place. User credentials are saved, allowing you to log in subsequently from any location and view the most up-to-date transactional data. When your passwords change across your various accounts, Mint prompts you to update the information.
Overall, these services provide a live, up-to-date view of your financial health and have additional tools to help you manage budgets and hidden fees.
Smartphone apps such as LevelMoney and digit.co are examples of on-the-go tools for budgeting, typically accessed from a smartphone. Digit.co links to the user's checking account and analyzes daily income and spending in order to find small amounts of unutilized money to set aside in a savings account. Similarly, Level determines the amount of expendable income a user has so that they can comfortably budget for and purchase non-essentials, like coffee and eating out. Level says they have tracked over $25 billion in transactions.
Investments
American consumers put their money to work in many ways, including investing in mutual funds, index funds, and exchange-traded funds. The cost associated with investments varies depending on the management type, asset class, and frequency with which assets are purchased and sold. Fees can be as low as 0.11% annually for an index mutual fund to as high as 1.5% for actively managed funds.
Newer companies such as Wealthfront and Betterment, frequently called "robo-advisors," are challenging the more expensive incumbents by charging a low annual rate of 0.25% of assets under management. That translates to a $25 fee on a $10,000 investment account. Furthermore, they provide amenities not traditionally bundled into investment services, such as software tools to determine an investor's risk profile, develop investment strategies that minimize taxes, and recurring portfolio rebalancing. Additionally, similar to Mint.com, the user is prompted to link their other financial accounts, and the user is notified when they have "cash drag," or excess cash in their bank accounts that could be invested in their savings or retirement portfolios.
Mortgage
Mortgage lags behind other areas of personal finances which have been modernized by innovation and technology. Today, most borrowers fill out a loan application on paper and in person at a local financial institution. Paperwork is often emailed or faxed to the lender, which unfortunately is often lost, leading to identical information being requested from the borrower multiple times.
Instead of using real financial data on the borrower aggregated directly from their linked financial accounts, lenders use standardized paper documentation and have employees who perform data entry. This can lead to mistakes due to human error. Furthermore, loans are underwritten manually which can lead to bias in a credit decision.
These paperwork heavy processes which require human capital and are subject to error take a lot of time. The proof is in the numbers: it takes 50 days on average to close a mortgage loan.
Neat Capital uses an automated system which brings numerous efficiencies to mortgage lending. Our system aggregates financial and transactional data when the borrower links their various bank accounts. This allows us to electronically verify income and assets and determine cash flow.
Neat Capital's electronic and data-driven processes translate to hours of time saved on the borrower's end, a loan underwritten within 24-48 hours of a submitted application, and the ability to provide you with ironclad pre-approval. You then get to make a cash-like offer and close with confidence on your home, usually within 15 days.
The Future of FinTech
Across all industries, technology continues to provide the means by which human life can be improved, and quickly. Innovators increase competition and force existing players to adapt or face becoming obsolete. Last year, investors bet on the future and poured more than $13 billion of funding into FinTech startups, ensuring a pipeline of new products and services for years to come. Looking forward, it's clear that FinTech will be an integral part of our lives.